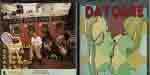 Daycare - s/t

Featuring:
David Garcia (of Phallucy) - vocals, guitars
Rick Click - drums
Sonny Mayubga (of Phallucy) - bass

Order this album here

01. Crankslut (featuring Abe Cunningham on drums)
02. Violets
03. Happy
04. Top Notch
05. If You Go
06. Pitiful


Hesher - Things! CD Single
1. Things! - Chino on backup vocals


Hesher - Self Titled Debut
9. Things! - Chino on backup vocals


Soulfly - Primitive
2. Pain - Chino and Grady (Willhaven) on vocals


Cypress Hill - Skull & Bones
6. (Rock) Superstar


Cypress Hill - (Rock) Superstar
1. (Rock) Superstar - Chino says a few words


Cypress Hill - So You Wanna Be A Superstar??? 12" LP
Side 2:
1. (Rock) Superstar (Clean Edit)
2. (Rock) Superstar (LP Version)



Sevendust - Home
13. Bender - Chino "Pony 1" on lead vocals


Soulfly
6. First Commandment - Chino on supporting vocals


Strife - In This Defiance
6. Will to Die - Chino on supporting vocals


Far - Soon EP
4. Savory (Jawbox Cover)
Performed by Far with Chino and Jonah on duel vocals, Stef on bass, Shaun (Far) on lead guitar, John (Far) on guitar, Abe and Chris (Far) on drums
Recorded at Enharmonik Studios. Produced by Eric Stenman of Tinfed


Far - Soon European Edition
4. Savory (Jawbox Cover)



Korn - Life is Peachy
10. Wicked (Ice Cube Cover) - Chino on lead vocals


The Bands That Stole X-Mas
18. Do They Know Its Christmas?
This song was originally done in the eighties by a bunch of singers that were popular back then, calling themselves "Band-Aid", to raise money for charity. It is covered by Far, Chino and Grady (Willhaven), with Chino doing the voice of Simon Le Bon (of Duran Duran), Jonah doing the voices of Bono (of U2), Boy George, and maybe George Michael, and Grady multilating somebody.