---
Chino & Orgy ? Etc.
I got this E-Mail from what I think is a reliable source, because he E-Mailed me some other legit Deftones stuff, but this sounds pretty crazy, so take it as you will...
It's a pretty long time ago (June 3rd 2000) at a Crazy Town show in Rotterdam, Holland where I met the band. I spend the afternoon with Crazy Town singer Brett "Epic" Mazur. I told him I was going to see Deftones live again on June 5th 2000 in Paradiso, Amsterdam. Then he told me when I was going to met Chino I had to ask him about a song he recorded together with Chino and Jay Gordon from Orgy! I agreed and on June 5th I was lucky enough to meet the band after the show and talked a while with Chino. When I asked him the question he had to think a moment and then began to smile. "Ooohh yeaaah that's right" he said, "but that was a pre-Crazy Town and a pre-Adrenaline recording!" He told me it was a verey cool R'N'B song and I'm not sure about this, but I thought he said Aimee Echo from theStart and former HWP singer, was on that song too. And Chino confirmed that Jay Gordon was on it.
deftonesworldwide.com has been redesigned, with every section sporting a cool new look. Also some new content has been added to the site - Exclusive behind the scenes pictures from the Back to School video shoot, an MP3 of Chino discussing Back to School, and a video interview with Abe and Frank, check it all out at deftonesworldwide.com.

Also Deftones are recording their Farmclub appearance this Friday in Hollywood, to reserve a ticket to be in the audience call 1-888-458-2582.

Fot those of you who missed the Deftones Yahoo chat, Yahoo said there will be a transcript available soon.
10/04/00

---
Live On-Line Chat / Bio CD
Here's the latest word from Maverick about a Deftones On-Line Chat:

Deftones will be live to chat with their fans! Ask your questions and get them answered, LIVE! #1... YAHOO CHAT
-WHEN: TUESDAY OCTOBER 3RD- 6PM Pacific and 9PM Eastern
-WHERE: http://chat.yahoo.com/c/events/info/2000/10/03/100300deftones.html
You will be able to enter the chat from this page starting 30 minutes before the chat (so 5:30 PT and 8:30 ET). So go on and warm up the joint!
Note: this chat will be an AUDIO ONLINE CHAT which means that you can chat on your computer and will also be able to hear Deftones speak (make sure you install the Yahoo audio device first at http://chat.yahoo.com).
SCOOP: for AOL members who won't be available on October 3rd, we are about to confirm an AOL CHAT on October 4th - 5pm Pacific. Stay tuned for more info today... It's 97% confirmed!

Also on ebay.com I saw what is probably the Deftones Audio Biography CD that will be released October 3. But this may not be the official Bio CD cuz it says "Unauthorised" but its still pretty cool. Here's the info and a picture:


Contains a biography, complete with comments and interview excerpts.
Comes in a full color slipcase with an eight page photo booklet and a one-sided, 10' x 10' full color poster.
Tracks:
1.Introduction
2.Roots
3.Rings
4.Coming Up
5.The Breaks
6.Adrenaline Rush
7.Glamour
8.Bad Luck
9.Pony One
10.Epilogue
09/29/00

---
Private Show Review
Yesterday I attended one of the best Deftones shows I've ever been to! Thanks to the very gracious contest winner Korina, I got on the list for the KROQ Private Deftones / Papa Roach show at the Roxy, a small club in L.A. with 100 of Korina's friends and about another 100 friends of the band. There were a lot of famous faces there too, here's all the people I saw there :
Dino from Fear Factory
DJ Lethal from Limp Bizkit
B.Real from Cypress Hill
Tommy Lee from M.O.M / Motley Crue
David, Head, and Munky from Korn
Bassist from Static X
MCUD from Hed Pe
Gwen and Tony from No Dount
Members of Incubus
Rodleen from "Knife Prty"
This article from CDNOW about the show says that members of Korn, Limp Bizkit, 311, No Doubt, Weezer, Zebrahead, Sugar Ray, Godsmack, and Incubus were all at the show.
I got there early and got to briefly talk to Chi, and was happy to find out that he enjoyed this site. Then Papa Roach went on while Abe, Frank, Chi, Chino, and his son watched their set from the side. Dino from Fear Factory came out to play "Snakes" with Papa Roach which was pretty fresh.
Korina then introduced the Deftones, and they went right in to My Own Summer. Chino was being very active all night, he dove into the crowd a few times, and was in the pit for a couple minutes too! He said something like, "What? Just cus I'm 27 years old I can't handle the pit ?" and then jumped right in. In between a song he sang bars to the Smiths song "Heaven Knows i'm Miserable". When it was time for Knife Prty, Rodleen came out to sing her part. Chino and her were kind of taunting eachother, then near the end Chino went into the crowd and Rodleen had the stage to herself. I'll have pictures of all this scanned pretty soon. Here's the setlist, not in the right order:
My Own Summer
Be Quiet and Drive
Feiticiera
Change
Root
Bored
Digital Bath
Around the Fur
Lifter
7 Words
Knife Party
Back to School
Headup
Thanks again to Korina!
09/27/00

---
Back To School Insider
A Deftones fan who was in the Back To School video recently emailed me describing how the shoot went :
I was recently in their new video for Back To School. Its for the little nicky soundtrack. We filmed at Grant High School in Van Nuys, CA all of last Wednesday and Thursday. Paul Hunter directed this, he's a really cool guy. We did some scenes in the classrooms where Chino is performing on top of the desks and all the kids are making a mosh pit around him. There's alot of shots of him skating around the school but i dont really know how much of that they will actually put in the video. And the live performance part was really cool too. In between takes they performed Elite and a slower version of Change for us. Well anyways, they have a new video called Back to School coming out in 3 weeks and their next songle is RX Queen I heard.
Thanks a bunch to TJ

Check out a recent interview with Chino in which he discusses Korn, Slipknot, and Limp Bizkit, among other things...here
09/19/00

---
New Cover / Fans Inquire
Heres the new album cover for the White Pony Re-Release :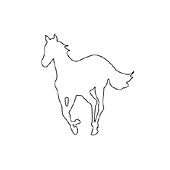 And for those of you having trouble downloading the free Back To School mp3, make sure you have your White Pony Cd in your computer, so you can unlock the mp3 and listen to it.
Back to School will be released as a single on September 26th, with a video following shortly, expect a clip of the video on the official site soon.

The Maverick representative on the deftonesworldwide.com bulletin board is giving the fans a chance give the Deftones some questions for an upcoming interview, with the best question being picked - post your question on the thread here.
09/19/00

---
Hesher Hook Up
I talked to a guy that manages Hesher and here's what he had to say when I asked him about how Hesher and Chino hooked up to record "Things" :
My understanding is that they were friends, and one day they just hooked up in the studio, and what was done is now "Things".
I also added a picture of Hesher, Chino, and the bassist from Bad Brains, so check that out in the Pictures section, or here. And check out Hesherworld.com for the latest info.

The Deftones video for Change (In the House of Flies) has been nominated in the 2000 Billboard Awards for 'Best Hard Rock Clip of the Year', here's the competition:
Deftones - "Change"
Incubus - "Pardon Me"
Kittie - "Charlotte"
Limp Bizkit - "Break Stuff"
Rage Against the Machine - "Sleep Now in the Fire"
Thanks to NickTooKay
09/19/00

---
Nicky Tracks Vitriol
Here is the final final track listing for the upcoming Adam Sandler movie Little Nicky. It came from a source close to Maverick Records.
1. POD "School of Hard Knocks"
2. Incubus "Pardon Me"
3. Deftones "Change"
4. Cypress Hill "Rock Superstar"
5. Insolence "Natural High"
6. Linkin Park "Points of Authority"
7. Disturbed "Stupify" (Fu Remix)
8. Un Loco "I"
9. Powerman 5000 "When Worlds Collide"
10. Muse* "Cave"
11. Filter "Take My Picture"
12. Deftones "Be Quiet and Drive" (acoustic version)

Chino Moreno had some more than nice words to say about the U.K. band My Vitriol. During the Kerrang! Awards, Chino said that My Vitriol was the "best band in the world." Apparently, the deftones singer has invited the band to contribute to his forthcoming solo album. My Vitriol's singer, Som, was really excited about the whole thing:"I love the deftones, so it's an honor that they feel the same. It's really exciting."

Thanks to deftonesnetwork.com and the PRP
09/18/00

---
New WP / School Video
Deftones worked on "Back to School (Mini-Maggit)" for inclusion on White Pony but didn't finish the song in time for the album. When the uncompleted track which is built around the chorus from the album-closing "Pink Maggit" began surfacing on Napster and other Internet music sharing sites, the band decided to hit a Los Angeles studio and polish it off.
"We did the vocals, which were never done in the first place, sang all the parts, and mixed it," says Deftones drummer Abe Cunningham. "It really turned out cool; everyone was happy with it. Then the label got hold of that and was extra happy. They wanted to put it on the album."
White Pony is an enhanced CD that enables fans to download material. Beginning on Sept. 20, fans can access the new track by inserting the album into their CD-ROM drive, clicking on the "Worldwide" section, and following the instructions from there.
"It's something else for our fans," Cunningham concludes. "The way it's working out, people who already bought the record don't feel gypped they're able to download it, and the people who don't have the record yet can get a better version." The band will hook up with director Paul Hunter in Los Angeles for the video for Back To School which will be set in a high school.
09/18/00

---
Hesher Release
Firstoff, sorry for the lack of updates lately, I'm moving and have had to update the page from this pay-per-minute Internet coffee shop.

Hesher has set the tracklisting to his upcoming Warner Bros. debut album "Self-Titled Debut", which features Chino, for an October 10th release, it is as follows:01 - "Presto-Changeo"
02 - "Whose Generation" (Feat. Everlast, Biz Markie)
03 - "Crazy American Cheese Sandwiches"
04 - "Out My Window"
05 - "Anytime Of The Day"
06 - "High Plains Grifter"
07 - "Something's Always..."
08 - "Lighter Thief" (Feat. The Bad Brains/Soul Brains)
09 - "Things!" (Feat. Chino Moreno of the Deftones)
10 - "Loves The Attention"
11 - "Word You Said"
12 - "Thanks To You"

Also, Deftones will be featured on the upcoming MTV Return Of The Rock Vol 2 CD, contributing the track, Change (In the House of Flies) Acoustic. Roadrunner Records have set November 7th as the release date for the upcoming album, other artists on the CD include Papa Roach, Soulfly, Disturbed, and Spineshank.
Thanks to the PRP

Here's a new article from MTV with Chino talking about working on the No Ordinary Love recording process.
09/16/00

---
School Supplies
The upcoming soundtrack for Adam Sandler's new movie Little Nicky has been officially set for an October 31st release. The Deftones will be contributing a new song to the soundtrack entitled Back to School. This track is apparently the finished version of the shorter version of Pink Maggit (aka Mini Maggit). Chino recently stated that it's the same track that leaked to the internet back in April, but it's been re-edited and he also said that, "It's the same song, but I'm actually singing. We're singing". Rumors suggest that Ozzy Osbourne may have added vocals to this track.
This is the same track that will be added to the new pressings of White Pony, but don't worry, if you already bought the album, you can download the mp3 of the song in the "Worldwide" web section of the enhanced CD when the new pressing is released.

The latest news is that Back to School' will replace 'Rx Queen' on future pressings of White Pony.
Thanks to House Uv Flies
09/16/00

---
Contest
Here's a cool Deftones contest I was recently informed of:
Soundbreak.com is offering you the chance to ride the White Pony express, and you won't come home empty-handed. We're giving away a trip to see alt-metal heavyweights The Deftones live on the group's upcoming American tour in a city of your choice, and we'll even throw in passes to hang out with the band backstage after the show. You'll also be given an autographed guitar so you too can rock out until defness sets in. We'll also feed you, set you up in a nice hotel and make sure you get to and from both the airport and the concert in style. Even if you don't win the grand prize, you could also be one of 30 recipients of Deftones prize packs containing a copy of the band's new CD, White Pony, as well as rare Deftones collectibles. To win, all you have to do is register at Soundbreak.com. Don't miss your chance to ride off into the sunset with a signed six-stringed trophy. Enter the contest here.
09/16/00

---
Video Projections
Here's the latest info from Donk on the Deftones video project:

All photos and videos must be received by Sept 18th - so if you are using regular mail you must send it Monday or Tuesday. Sorry it's so soon - they just changed the launch date.
Along with any photos and/or video please include the following:
Your mailing address
Your phone number
How you want your name in the credits
(All info will only be used for this project)
Some people who submit content may be asked to sign a release form saying that we have their permission to show there face on the deftones project.

Please everything to:
Deftones Submit
2340 Cloverly N.W.
Grand Rapids, MI. 49544

Or e-mail scanned pictures to:
defsubmit@monitorpop.com
(Please try to make scanned photos high resolution or large image size)
Remember there is no guarantee that your stuff will be used in this. Plus we cannot return anything you send in.
Donk

Check out his thread on the bulletin board here.
09/12/00

---
Incubus' Deftones Opinion
Here's what Mike Einziger of Incubus said about touring with the Deftones:
"I really like the Deftones a lot. I think they're a lot like us in that they're not afraid to show their not-so-heavy side," he noted. "They're way more in touch with their musicality - more so than other bands do who are into making kids beat the sh-t out of each other at concerts. There's a lot of music like that around these days. It's like, that's cool, it has a place, and I can see why a lot of kids like that stuff, but I don't really relate to that, you know?"
Einziger adds, "The Deftones, now there's a band I can really relate to." He also says that White Pony is one of his favorite new albums.

In other news, the Deftones track Be Quiet And Drive (Far Away), will be featured on the soundtrack for theDave Mirra Freestyle BMX video game on Playstation and Sega Dreamcast.

Also, word is that Chino will Co-Direct the RX Queen video which is due out in late September.
08/30/00

---
Team Sleep Awakens
Chino Moreno now plans to work on his much talked about side project Team Sleep while on tour with Incubus and Taproot throughout the fall.
Describing Team Sleep as "all kinds of more ambient break-beat stuff," Moreno says that he intends to bring his equipment and electronic tools in tow on the tour, which kicks off in October. After writing songs on the road, Moreno hopes to release a Team Sleep album by February.
"It's real simple," Moreno says of the project. "It's basically like a lot of my vocals with beats from DJ Crook, who worked on the song 'Teenager' on our new record. The music's like turntables, old school drum machines, acoustic guitar and electric guitar. But it's kinda got a cool, real mellow tone to it. I just want to make a whole record like that, a whole dreamy record."
The album will possibly be released on the Deftones own label, Tone Def Records.
08/30/00

---
Deftones win Kerrang! Award
In London today the boys scored in the 'Best Album' catagory for their fabulous 'White Pony' album.
Unfortunately they didn't get 'Best Band In The World' one. Slipknot got it instead...
Don't ask me how...then again...people in the U.K. praise Marilyn Manson as a 'god' there. Go figure!
NOTE: This opinion does not neccessarly reflect Jeff(rey)...this is Nick2k's. All Slipknot fans may send hate mail to: steaming79@aol.com

Interview with the deftones done at the Kerrang! ceremonies will be posted here real soon... If you are experiencing a slight problem extracting the 'zipped'-interview...try: defjef.tripod.com
08/29/00

---
Fred on 7 Words / More
At Deftones recent show in Portugal, Fred Durst helped sing on 7 Words - check out Deftones - The Biggest Band In The World for some pictures and a review of that show, plus a rad new design.

The "White Pony" has now sold over 508,564 copies in the U.S. which means its now gone gold according to the R.I.A.A.

Taproot are rumored to be a possible opener on the upcoming Deftones, Incubus U.S. tour which is expected to take place beginning mid October and run through till late November.

The KROQ deftones/Papa Roach Private Show will take part on September 26th, 2000 at whatever place the winner can hold it at.
Subtle catches though: The 'host' must be able to have the show that nite betweem 8pm & Midnite, otherwise tough beans.
Also you must choose your 100 'friends/guests', I'm guessing this process will make enemies as well...
And lastly you MUST be a resident in Los Angeles, Orange, Riverside, Ventura, or San Bernadino County to enter. Sorry.
But to have the deftones play a 25 minute set along with Papa Roach's 24 minute set in your bathroom is worth the move...
Winner will be announced September 21st Thursday morning...good luck.

Since that darn 'Survivor' show is finally done and over with, read about what Chino and the gang thinks about it among other things here: Interview
Or if you rather listen to it yourself, download it here in MP3 format: Audio or ALT-MIRROR (2.8 megs...)
08/28/00

---
Chino Speaks of Remix Album
I just listened to a phone call from Chino on deftones.com. Here is the link:
http://streamer.brandcast.net:8080/deftones/
It is the call from 8/25. Basically he says that a new version of the White Pony is going to be released. It will have a different first song. He says that the first song will be called "Back To School". Chino said that some of you on the net might already have it. This leads me to believe that it is the Rap Version of Pink Maggit that was not put on the White Pony.
Thanks to Byrce

KROQ in Los Angeles is holding a contest for a Private Show consisting of the deftones and Papa Roach for the winner and a hundred of his/her 'friends'. So if you live in Los Angeles and know of a 'Del Taco', go there...pick up a bumper sticker...slap it on your car...listen to the Kevin & Bean show on Monday morning to find out the rest of the horrifying details to follow.

Just a reminder...the boys are coming back to the U.S. to start the 2nd leg of their tour in mid-October.
08/26/00

---
Deftones Kerrang! Awards
The Deftones will definitely be attending this year's Kerrang! Music Awards in London, U.K. on Tuesday, August 29 now that it has been revealed they have been nominated for two awards. Their latest release, White Pony was nominated for "Best Album of the Year" and the band themselves have received a nomination in the category, "Best Band in the World."
08/23/00

---
Chino to do Morissey
Select Magazine has reported that Chino wants to cover a Morrissey song. Here's what Chino had to say:
"One day I'm going to record a Morrissey track. Oh, it will happen," he says enthusiastically. "Maybe 'Will Never Marry', it's such a soothing song."
Thanks to Patrick
08/23/00

---
New Acoustics
On August 13th the Deftones played three songs acoustic at a Las Vegas radio station - Change, Knife Prty, and Digital Bath. They even had Chino's son Coby playing maracas on the songs. This is apparently the first time they've played Knife Prty acoustic, they have played Digital Bath acoustic, which you can watch on the White Pony enhanced CD. A CD with these 3 acoustic songs is up on ebay, bid on it here.
08/22/00

---
Webcast Durst Peaks
Rollingstone.com has posted that there will be a Deftones webcast tommorrow, not sure if this is an older broadcast or a live broadcast of tommorrows show in Portugal, check it out for yourself here.
Fred Durst watched the entire deftones's concert last saturday at the Bizarre Festival in Germany and even told later to the public that he liked not only their concert but also the Foo Fighters one. Who said they didn't support each other?
Thanks to damone.org.

Deftones have recently been opening their concerts with the theme music from the old TV show Twin Peaks, it sounds very cool check out an mp3 of the intro over at bqad.net.

Hesher's upcoming album, which features Chino and HR from Bad Brains on the track "Things", has been delayed with a pending release date.
08/22/00

---
Iommi Track Cut
It turns out that the track Chino wrote and recorded with Tony Iommi (Black Sabbath) will not be included on Iommi's upcoing solo CD, but will possibly be released as a B-Side in the future.

Deftones.net has reopened, with some new features added, as well as video clips of Change live at HFest, and Dai the Flu, Damone, and Digital Bath performed in the Deftones rehearsal studio.

Also Deftonesstore.com has added a cool new White Pony windbreaker and some of the recent tour shirts to its selection.
08/18/00

---
Phallucy Info
I have been told that there's still a good chance that Phallucy's (Abe's old band) old material will be released on Deftones Label, Tone Def Records. Chino even wants Phallucy to TOUR with the Deftones. Getting the full original band could be difficult though, but having Abe play for both bands on the possible tour would be rad!

08/18/00

---
Misc
Abe and Chino were on TRL yesterday, talking with Carson about touring, getting a key to the city etc. Adrian from No Fist was a special guest, got to come up and say hi to the boys, very rad.
Incubus's official site says that Deftones and Incubus will be touring from mid-October through late November, stay tuned for detials.
The acoustic version of Change (In the House of Flies) was released to radio on August 15th. The song was recorded earlier this month at Studio x in Seattle, WA with Terry Date producing.
Check out some articles on Deftones getting a key to Sacto, and about the acoustic Change here - here - and here.
Also vote for Change to get played on the radio in France here.

You can buy music and t-shirts, including Chi's poetry CD, at a new official Deftones store stores.musictoday.com.
08/16/00

---
Check out Past News