Wild On / Home & Fan Vids
A Chicago radio station reported that the Deftones home video will be released in the middle of February - this has yet to be officially confirmed so don't smash your piggy bank yet!
thanks to xxxedge9

On E! News Weekend, they covered a bit on Rock in Rio. Afterwards, the host said that there will be a "Wild On!" show based on that concert in the future. The show is an hour long so I bet there will be a bit on the Deftones perforamance at Rock in Rio, so keep a lookout for that show "Wild On!" on the E! Network.
thanks to defone

GetMusic.com is hosting a contest based in the upcoming Deftones' video - Digital Bath - All you have to do is make your own Digital Bath video (in Flash) and then submit it. There are several videos already submitted so check those out here.
thanks to deftonesworld.com

I was checking out some of the interviews listed in the last news post and found out a couple new things - Chi is working on a novel, and still writing poetry of course - and Chino was talking about how lately he has been listening to old low-fi electronica such as Kraftwerk and Boards of Canada. Just a lil fyi...

Also I hear teamsleep.com is or will be the official site of Chino's side project Team Sleep.
01/31/01

---
Chi cut his dreads!
Chi cut his dreads!!! I didn't belive it at first either but check it out! These photos were taken in Chile 01/26/01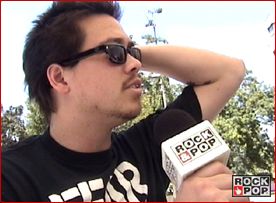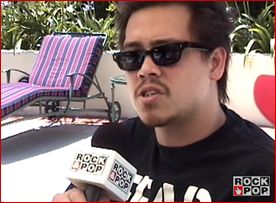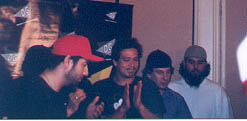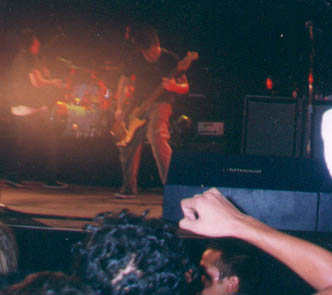 Here is a page with pictures and an audio interview form Chile
Here is a page with audio and video interviews from Chile
Here is a typed out interview from Chile
All these are in Spanish, so go here for an online translator if you don't speak it. Thanks so much to Rosy and Enrique
01/28/01

---
Acoustic MP3's / More
bqad.net has posted mp3's of Knife Prty, Digital Bath, and Change all acoustic from a Las Vegas radio appearance. Be sure to check these out they all sound fresh, it's like hearing the songs for the first time again.

Deftones will be performing on the Tonight Show with Jay Leno on Febuary 9th on NBC. Check local listings for showtimes. I assume theyll play Digital Bath.

During breaks from recording their new album, Fear Factory bassist and drummer Ray Herrera and Christian Olde-Wolbers have been working on their side project Kush featuring Stef and B-Real. And in case you were wondering what the name meant, Kush was named for B-Real's latest weed of choice.

Rumor has it that the episode of MTV Cribs featuring Chino's house will be aired on February 8th. If anyone can confirm this, lemme know.
01/26/01

---
Jonah's Sleep / Tab Book
Jonah of Onelinedrawing, recently hinted on his official website that he might be working with Deftones singer Chino Moreno on his side project, Team Sleep. It is currently unknown though as to how he would participate in the project.
Thanks to Thanks to thePRP

There is now an official guitar tablature book for White Pony. You can purchase it at sheetmusicsuperstore.com or check out a coverscan here
Thanks to Kris
01/21/01

---
Rumors / Chi in Jane / Magick
Frank recently posted on the Deftones board that the White Pony Remix album Black Stallion was just a rumor.

Chi Cheng and Deftones were mentioned in the January/February issue of Jane magazine. In the music section, Chi replied to the topic of "Best song to have sex to" :
"None. I don't use songs as crutches for sexuality. Also, if you're laughing in the bedroom while you're having sex, you may not be doing it right. I'm not saying that everyone should be versed in the kama sutra, but I think that if you need to put on Jay-Z or Sade to have sex, I don't know. I don't remember the last time I had sex to music. I've got a 3 1/2 year old son, and I'm not gonna lie to you - it gets kind of hard."
Taproot and Linkin Park have been confirmed to open for the Deftones on their upcoming European tour.

CDnow.com has added the Back To School single, but they list the first track as Mini Magick Mix instead of Back To School. Whether this is a new song or not, I'm not sure.
Thanks to houseuvflies.com for that.
01/11/01

---
Grammy Nomination
Deftones have been nominated for a Grammy award in the category of Best Metal Performance for the song Elite. The other nominations in this category are: Iron Maiden - The Wicker Man, Marilyn Manson - Astonishing Panorama Of The Endtimes, Pantera - Revolution Is My Name, and Slipknot - Wait And Bleed.
The winners will be announced live from Los Angeles at the 2001 Grammy Awards February 21st.
01/01/04

---
Vid Interview / AP / Valentine
Now you can contribute even more of an opinion to the Deftones Home Video - the director will be going to SACTO next month to film interviews with band members. He wants to ask them things that fans really want to know - not same thing you read in every interview - so post your thoughts at this topic where the director will view all posts, or you can e-mail the director himself.

Check out this interesting map shot, and notice what city lies right below Chino Hills. Interesting huh? =)
Thanks to DeFteNy

The latest issue of Alternative Press magagazine lists Deftones' 'White Pony' in the top 10 albums of 2000 and White Pony also came in first in the readers poll for best album, and also won in a couple other categories. Theres also a small interview with Chi, with him mentioning that he would still like to put out a covers album.

The Soundtrack to the upcoming movie Valentine will see a release on January 30th through Warner Bros., the tracklisting for it is as follows:
01 - Rob Zombie - "Superbeast" (Porno Holocaust Mix)
02 - Disturbed - "God Of The Mind"
03 - Static-X - "Love Dump" (Mephisto Odyssey's Voodoo Mix)
04 - Linkin Park - "Pushing Me Away"
05 - Deftones - "Rx Queen"
06 - Orgy - "Opticon"
07 - Marilyn Manson - "Valentine's Day"
08 - Amanda Ghost - "Filthy Mind"
09 - Professional Murder Music - "Fall Again"
10 - BT - "Smartbomb" (BT's Mix)
11 - Soulfly - "Son Song" (Feat. Sean Lennon)
12 - Filter - "Take a Picture" (Hybrid Mix)
13 - Snake River Conspiracy - "Breed"
14 - Beautiful Creatures - "I Am"
The movie itself will hit theaters on February 02nd.
Thanks to thePRP
12/28/00

---
Deftones Home Vid
Donk (the Deftones webmaster) has finally let the cat out of the bag on the Deftones home video - it will be a Deftones documentary home video that should be released some time in mid-2001. The director has about 60 hours of footage from the Back to School tour and about 15 hours of stuff that Donk taped over the years. Well of course all that footage needs to be cut down to 90 minutes, so the director wanted me to get some input from fans - if you want to give your opinion on what should be in the home video, post your thought in this topic on the Deftones board.

Be sure to check out the mp3's of Drop Acid and Socialistik that i added to the Sounds page.
12/21/00

---
Deftones & More on DVZINE
In January 2001, Deftones will be among the many bands featured on a "DVZINE" called 750MPH. It is basically a multimedia filled DVD that you can buy at all Wherehouse Music outlets. The first DVD features more than five hours of music videos, live performances, interviews, short films and audio-only tracks from Papa Roach, Deftones, Godsmack, Linkin Park, System of a Down, (hed) PE, At the Drive-In and more. As far as I can tell, the only Deftones thing on there will be the White Pony promotional EPK, but more Deftones multimedia will probably appear in future issues of the DVD. For more info check out the official site at www.750mphdvd.com or this article on the new DVZINE.
12/21/00

---
Buy Drop Acid Online
I found out that you can now order the Drop Acid album 46th and Teeth online. For those that forgot, Drop Acid was a side project Abe did in 1992 while he was in Phallucy with Kevin Seconds (7 Seconds), Sonny ( Phallucy), and Doug Calvert. Be sure to check out this album it's a good listen and interesting to hear how Abe's style has evolved over the years.

You can order it here

For more info on Drop Acid check out the Other section in the Discography, and past news.
12/19/00

---
Weezer Watching Deftones
Here are some pics of Mikey and Pat from Weezer reacting to Deftones covering Say It Ain't So right before Weezer's set!


thanks to weezer.net
12/18/00

---
Back To School Single Info
The European Back To School CD Maxisingle contains 2 live tracks - Nosebleed and Teething. The sleeve says that the songs were recorded in Chicago on November 8th, 2000 while they are actually the same songs from the Shove It CD Single and the BQAD CD single so they are actually recorded in Amsterdam on Oct 13, 1997. The track times on the sleeve are also different from what they actually are, and the intro of Teething is missing and the song just starts out loud.
Thanks to sLy

Deftones will be performing at KROQ's Almost Acoustic X-Mas on Saturday and Sunday. If you can't make it, you catch watch it being webcast from HOB at 6pmPST/9pm EST. Other bands playing this show are At the Drive-In, Papa Roach, No Doubt, Incubus, Weezer, and more. For more information check out this page.

An Ozzfest '99 documentary film which was directed by Penelope Spheeris, has been titled We Sold Our Souls For Rock & Roll and will be premiering at the Sundance Film Festival on January 20th, 21st and 27th. The film is also expected to hit smaller theaters around the country in the spring. The Deftones will probably have appearances in this film, since they were a main act on Ozzfest 99.
You can check out a preview of the film, with footage of Chino beating on some dude, at deftones.net or if that doesnt work you can watch it here.

Actor and comedian Jay Mohr (SNL, Go, Jerry Maguire) was on the Kevin And Bean Show this morning on KROQ and was saying he was looking forward to seeing Deftones at the Almost Acoustic X-Mas this weekend tearing up the stage. And before he left he yelled out "Deftones!"
Thanks to Roy Moreno

Events section updated.
12/15/00

---
Digital Single / Vega Interview
Deftones will release the track Digital Bath as the third single from White Pony. The song will go for radio adds on January 9th with a video expected in February.
Also, Deftones will release Back To School (Mini Maggit) as a European CD single in January.

The Deftones were discussed in a recent interview with Sergio Vega (Quicksand):
Question: What was it like filling in for Chi from the Deftones on the Quicksand tour? I understand that he was injured.
Sergio: He was healing from an operation and out of commision for a couple of months. We've been friends since 1995. I flew to New York and had two rehearsals.

At some recent shows, DJ Crook of Team Sleep has been DJing on Teenager, and doing the intro music.
12/13/00

---
Shoutweb Awards / RV
The results for the Shoutweb 200 Music Awards are in, with Deftones reigning:
Artist of The Year - Deftones
Album of The Year - White Pony
Song of The Year - Judith (A Perfect Circle)
Video of The year - Judith
Best Debut Album of 2000 - A Perfect Circle
Best tour of 2000 - Ozzfest
Best Artist Website - www.deftonesworldwide.com
Best Unofficial Website - toolshed.down.net
Best Unsigned Artist - 20 Deadflower Children
Vocalist of The Year - Maynard
Guitar Player of the Year - Billy Howerdel (A Perfect Circle)
Bass Player of the Year - Chi Cheng
Drummer of the Year - Abe Cunningham
DJ of the Year - Sid Wilson (SlipKnot)
Most Underated Band of 2000 - Cold
Most Anticipated of 2001 - Tool
Most Anticipated Debut of 2001 - Godhead
Live Band of the Year - Deftones
Producer of the Year - Terry Date (Deftones)
Rumor has it that Deftones have chosen the track "RV" to cover for the Faith No More tribute album.
12/10/00

---
Ozz99 CD / Webcast / Things
Chicago radio station Q101 will be webcasting the Twisted 7 Christmas Show live which features the Deftones, The Offspring, Cypress Hill, Incubus, Orgy, Disturbed, Papa Roach, Everlast, and Live tomorrow Dec. 9th. The show starts at 3:00pm EST but I'm not sure when Deftones go on, check out Q101.com tommorrow to find out - Thanks to Rich V

Check out TeamSleep.com for the first look at DJ Crook from Team Sleep, in a short quicktime video that Donk shot.

Ozzy Osbourne is putting together an Ozzfest 99 live CD, slated for a realease in March. No songs have been confirmed but Deftones are a possibility since they were a main act on Ozzfest 99.

Rumor has it that a major Electronics/CD chain store has a Deftones DVD in the back that isn't supposed to be released until early 2001. The DVD had a metallic cover with the White Pony logo on it - Thanks to BuryMe2007

Hesher has set the track "Things" as the first single off of his upcoming Warner Bros. debut album, "Self-Titled Debut" which will see a release on January 30th. The track, which features a guest appearance from Deftones frontman Chino Moreno, will go to radio for adds on the same date.
Thanks to thePRP
12/08/00

---
---
ATDI Speak / DJ Tones
At the Drive In, a band the Deftones have expressed interest in touring with recently posted on their message board, to put a stop to an arguement between Deftones lovers and haters on the board. Here's what they had to say:

actually we are friends with the deftones.. we met them in holland in the summer and we got to hang out with them for a few days while we played three shows together, they are really nice people. i think the deftones are way more intelligent. they are good people, with music that still challenging, and innovative.
Check out the topic's full discussion here

Chino and Frank recently showed up at St.Louis, MO radio station KPNT and picked some songs to be played. Some of the stuff they played was, Girls vs. Boys, Weezer's new song (I assume "Christmas Song"), Prince, Shudder to Think, and their own "Passenger."
12/07/00

---
Tour Rumors / Homage / FanVid
Here's a bunch of news I've been meaning to catch up on:

At a recent show, DJ Frank started talking about how they were trying really hard to play with A Perfect Circle for their next tour. They said that was almost definitely their next order of business. When asked about a tour with Weezer he said that he didn't think it was going to happen becuase as far as he knew, the guys from Weezer had never enquired with their (the Deftones') management regarding the proposition. He then went on to say that at the Weezer website (weezer.net) there is supposed to be a poll where they ask the fans if they want them to tour with the Deftones and right now it's a 50/50 split.
Much thanks to Laura

In more tour news, the Deftones mentioned that they are hoping to do a summer tour next year which they would co-headline with Incubus, according to group frontman Chino, they would like At The Drive-In, Mike Patton and System Of A Down to open.
Also when a fan asked Abe if the Deftones would ever tour with Korn again he said that they will definitely tour with them again, but when the time is right.

At several recent Back to School shows, Brandon from Incubus has sung along with Deftones while they covered Weezer's Say It Ain't So.

Chino is reported to be lending his vocals to the debut album of Homages Son. The bands who met at a gig in Chicago hit it off, and Chino was asked to guest with them.
Thanks to Thanks to deftonesweb

Also you can watch the Deftones Back To School Fan video that features footage sent in by fans here. The video was made by Mike Donk (deftonesworlwide webmaster) and has a school theme to it going along with the song Back To School. Also you can send in your picture for a chance that it will be added to the video. So check it out shockwave.com

A guitar autographed by the Deftones is up for auction, with all proceeds going to a Florida Children's Home.
12/04/00

---
Chino & Abe on MTV
Chino and Abe were on MTV's 100 Greatest Pop Songs .They (actually it was mostly Chino) were discussing the band at number 69, Depeche Mode. It was taped when they were in NYC for TRL back in August. The show will be re-aired on:
Nov 29, Wed - 9PM-11PM est
Dec 1, Friday - 7PM-9PM est
Thanks to morena
11/28/00

---
B-Real Interview / More
Here's what B-Real had to say about Kush in a recent interview:
"We have seven songs recorded so far. We're looking for a 2001 release, being that we have a bunch of work between both of our bands. A couple of guys from Fear Factory are also in Kush, but they're working on their new record. I'mm gonna finish up some tracks before I go on the Offspring tour, and when we finish the Offspring tour, we're gonna look to put it out."
"Hopefully people will get a different side of all four of us. It's gonna be pretty intense, for sure. I dunno if we're gonna do any guest appearances, but I do know it's gonna be a power-packed record."

Deftones are rumored to be touring with A Perfect Circle and At the Drive-In for the upcoming US A Perfect Circle Tour which takes place from February until April, but there are some comflicting Deftones dates lined up at that same time, so this rumor could be false.

At the recent Connecticut show, Chino gave out a special momento to a lucky fan. At the end of 'Change (In the House of Flies), Chino lifted his guitar over his head and threw it into the crowd. Three songs later chino came back to the railing and was like, "alright, who's got my guitar?" no one said anything. he was like "damn, you're all a bunch of thieving bastards." some guitar tech got him a replacement and when it didn't work he was like "this is what you get when you throw your guitar into the audience. a guitar that doesn't work." then he was like "this is what you get when you spill paint in the garage." the crowd was like.. "what?" he proceeded to recite judd nelson's monologue from The Breakfast Club where he's like "hey dad, what about you? shut up.. no dad, what about you?! Shut UP!! NO DAD! WHAT ABOUT YOU?!?!?". A bunch of people in the crowd were screaming the lines with him by the end. and when the end did come, he busted into Digital Bath.
Thanks to House Uv Flies and 7WoRds

On today's episode of VIP (the TV show) they played Elite during one of the motor cycle battles - Thanks to Mark
11/25/00

---
Taproot's Glee
Taproot recently commented on their tour with the Deftones and how happy they were about it:
Taproot's debut major label album, Gift, is getting notice on its own without the Bizkit's help. Plus, just being on the Back To School tour with the Deftones has, in Mike DeWolf's words, "been a life-long dream." Despite maybe being the next big thing in nu metal, they're just 23 and 24 year old guys who are devoted fans of the Deftones, just like those screaming kids outside of their tour bus.
"Before the tour started I was kind of hoping we could at least hang out a bit, meet one time, whatever, maybe have a couple of beers," explains Montague. "But it's like everyday! Fuckin' Abe [Deftones drummer] and the rest of them are like 'Come on!' We're still kind of like, 'I don't know. We gotta go now. We gotta get back on the bus!" He leans back and gives an embarrassed laugh.
"It's weird," says DeWolf. "For the first while I didn't even want to talk to them because I thought that might ruin what I have for them but it hasn't been that way. I was worried because I wanted to have their respect. Not like, 'Yeah, you guys are the fucking best!' but at least think and say, 'Yeah, you're pretty cool.' And I think we got that."
Montague adds, "Abe in the beginning watched us every night and Steph [Deftones guitarist] has watched us the last couple of nights. Chino's started to as well. It's cool. It's a good sign."
He lets out a satisfying, deep laugh. "It means we're doing something right!"
11/17/00

---
Latin Lowdown
Deftones recently did an interview with the Latin American MTV, when asked about ever singing a song in Spanish, Chino said that they're going to be writing a song with Cypress Hill soon, and he was thinking about singing part of it in Spanish, since B-Real can sing in Spanish. Then Stef said that he wanted to record Digital Bath and Mascara in Spanish.

Here's some other questions of interest from that interview:
Q: When did you start smoking weed?
Chino: I started when I was small but then I stopped because one time I got real paranoid and I almost called my mom and said "Mom im high" cause I was so scared I thought i needed to go to the hospital. I was 16.
Q: Chino, why'd you cut your dreads?
Chino: Cuz they were dirty.
You can check out the interview in Spanish here
Thanks to Fredys for the info
11/16/00

---
Stef on Chimaira
The official Chimaira website has reported that Stephen Carpenter and Dino Cazares from Fear Factory will be guesting on their upcoming album. So far Chimaira has 11 songs finished and ready to demo. If all goes well, they will start full time pre-production for the record right after Thanksgiving with Dino Cazares.

Check out moshpitvideo.com for a high quality mpeg of Deftones preforming Digital Bath live on Much Music Canada.
11/15/00

---
Check out Past News