Order - Daycare (ft. Abe) - Deftones Bio CD - Official Deftones Merch Here
- Drop Acid (Abe on Drums) - Order


---
Downtuned
In a recent Guitar magazine Stef commented that the new album should be out in Spring '03 and that he is using a ESP baritone 7-String downtuned all the way to G#.

A big article on the Deftones new album is in the new Kerrang! magazine - Among other things, they say that the new album will not be called Lovers after all - check out deftonesworld.com for scans of the article.
1/7/03

---
Chino 80's Photos
I re-scanned those old pictures of Chino in the 80's and added a new one along with it, check them out below:




12/2/02

---
Todd's Projects / Abe & Daycare
Todd from Team Sleep recently posted this message on the teamsleep.net board:
"I got a Roland digital 8. It's soooo sick. I've recorded so many new songs, I don't know what to do with them. I'm working on some stuff with Sonny from Phallucy on Bass and His wife singing and my friend Pete from Pocket for Corduroy on drums. I'm also going to record an e.p. with my friend Dan, also from P.F.C. on vocals and guitar all on 4 track cassette. I'm hella inde you know, lo-fi."
That all sounds hot. Thanks to evilsraven @ teamsleep.net for the scoop.

In related news, Abe will no longer be playing drums on the new Daycare album, instead their new full-time drummer Pete Newsome (ex-Pocket for Corduroy) will take over. Abe did record a couple songs with Daycare though, "Only Eyes" and "Anywhere," which can be download in their entirety in the sounds section or from daycarerocks.com. Meanwhile Daycare are recording and have several songs recorded that probably rock the casbah.
11/07/02

---
Hecka Abe / Album Update
In the latest Heckler magazine, Hella is interviewed, with Abe, Todd, and DJ Crook interrupting:
Heckler: Zach, how did you get the name Hella?
Zach Hill: Uh. Wait...is this a real interview?
...
Abe Cunningham: Eh, you can't fuck with Hella, that's the tightest name in the fuckin goddamn universe. You can't fuck with Hella. Hella is the band I wish I woulda named my band. But I was two lumps and a god damned bump late.
A message from deftones.com (along with some cool new studio pics):
"We want to thank everyone for their patience and support. We are currently in the final stages of the recording process. For the past couple months we have been in Seattle finishing what was started at home. Initial tracking for the new album was done in Sacramento. We're all really excited with the new tunes and can not wait to get back out on the road with them. More updates to come. Much thanks...Deftones"
From glassjaw.com, here's something to take lightly:
"New Deftones Info You've all been waiting for.
posted: 11/01/02 by Abe Cunningham
Well since I talk so much and chino doesn't give me the mic, I figured that the nation of jaw wouldn't mind if I used there site for a minute.... ok..... good.... here we go........... Well we (the tones) are putting the finishing touches up on our latest album as we speak. Can't tell you much but I can tell you this.... Expect anywhere from 12 too 37 tracks but it'll still be a single album fuck that double album shit. We have tons of guests on this bizatch too. We got Nelly, Nelly Furtado, fucking Timbaland, Timberlake and Missy too. Take some Flannel, some long johns, coffee and some 24 hole doc martins and that should some up the new album in a nut shell. Tight....hella tight."
Here's something Chi posted on the Deftones board bout a week ago:
album is comin along.music is done and what ive heard chino do is inspirational.will befriend everyone but no sexual favors.abe says hello-chi i haint scurred.look fer a march release.ya caint rush this shit .but we are workin.what the fuck is with abe being a big fat fandango?-chi
11/05/02

---
Release Dates / Kush MP3
Chi was on the Deftones board the other night and said that Deftones' new album "Lovers" will not be out until next year, as opposed to the previousy reported release date of November 19th. Check out exactly what he had to say here.

The Team Sleep CD will also not be out until next year according to this E-Mail message from Chino and Todd:
"Originally, we planned to make a record in three weeks; We never intended to play any shows. However, the scope of this band has changed. We continue to write new songs, and will be playing some shows in December. The Team Sleep record will be out in 2003. Thank you for being patient, or if not, thanks for being interested. We will have more audio samples and links to studio tracks soon . . ."
You can hear a demo mp3 of Kush's song "Unstable" at their new site www.kushproject.com

Sorry for the lack of updates the past few months, had some trouble staying on line. Thanks for still checking in. Regular updates to follow.
10/13/02

---
Team Sleep Album Info
A new Team Sleep article in the Sacramento News & Review states that the Team Sleep album won't be released until next year. Also it says that DJ Crook and guitarist Todd Wilkinson are working on material for another yet-to-be-named project. Check out the full article here for more information straight from Todd Wilkinson.

You can also see News & Review's review of the Team Sleep Harlow's show here.
06/28/02

---
Todd / Comp / Etc
The track listing has been set for the upcoming "MTV's Road Rules Don't Make Me Pull This Thing Over: Volume 1" compilation album, and will feature "The Boy's Republic" by Deftones, among other artists. The effort is due out in stores on August 06th through Roadrunner/Island/Def Jam.

Team Sleep band member Todd Wilkinson recently commented on the song "Iceache"s status and also of their upcoming live show at Harlows in Sacramento this Thursday June 6th "Please Please Please be patient, the album is 99.9% done"
"This show is actually helping us with the album. Playing music together is what we do. Practicing, recording and performing are all complementary....Recording is not something, like stuffing envelopes, that you can do everyday for X hours and expect similar results each day. If a song is going to make you feel a certain way, the people playing it must feel that way too. If they don't you can expect mediocrity. Fuck that."
"At the show, some songs will be different, some new ones as well. We have at least three new songs; I'm not sure how many we will play live. Dan (ex Pocket for Corduroy) is going to play guitar with us on most songs. He's adding alot to our sound."
thanks to thedeftones.com

Word has it that Chi is working on writing a book.

Abe will be playing a show with his other band, Daycare, on June 28th in Sacramento. Check daycarerocks.com for more information.

I got a new server thanks to Mike Calvert. Some pictures might not have transferred over so let me know if you notice any missing.
06/15/02

---
TS Sounds & Pics
Check out an mp3 of a rough mix of the Team Sleep song "Iceache" at teamsleep.com, and while your'e listening, check out these rad new pictures of Team Sleep live from their recent Sacramento show.


Thanks a bunch to lucidanne for those.
06/08/02

---
LP Remix / GJ Euro / Tommy
Linkin Park are currently hard at work mixing their upcoming remix album "Reanimation" which features Stephen Carpenter of Deftones as one of many confirmed guest artists who will be involved through remixing and other contributions.

According to some insiders it looks like Deftones are planning a fall tour with Glassjaw opening. According to Glassjaw, the tour is VERY tentative, shaping up to take place in Europe0 after their Ozzfest tour.
Thanks to glassjawband.com

The Kush record is expected to be released January, 2003 whilst B-Real's vocals are said to of evolved into much more screaming and singing as opposed to hip-hop influenced stuff.
Thanks to thedeftones.com

Check out deftonesworld.com to hear a clip of Tommy Lee's "Ashamed" featuring Chino singing.

Go Kings.
05/28/02

---
Daycare CD / GJ / DVD
Daycare is currently working on their upcoming full length album due out around summertime. A couple months ago Abe signed on as Daycare's drummer - he will be recording with them and playing live shows when he's not busy with Deftones. So far Abe and Sonny (bass) have recorded their parts for a few of the new songs. You can catch Daycare this Friday for free at Cesar Chavez Park in Sacramento on Jst.

Chino, Abe, DJ Frank, and DJ Crook were all seen in the audience at the Glassjaw show in Sacramento last Saturday.

Team Sleep has a new show date lined up:
Team Sleep
Soul Clap
T.B.A.
Harlow's - Sacramento - 6 June 2002 - 21+

The Deftones episode of Music In High Places will see a release on DVD and VHS on August 27th through Image Entertainment. The set was captured in Hawaii and features the band performing acoustic versions of the following songs:
"Knife Party"
"Digital Bath"
"Change (In The House Of Flies)"
"Headup"
"Be Quiet And Drive (Far Away)"
"Around The Fur"
The release will also feature a variety of bonus materials including interviews and behind the scenes footage.

Pitchshifter's new CD "PSI" has a enhanced media thing for computers, featuring pictures of Pitchshifter's singer with Chino, Stef and Chi.
Thanks to Justin
05/20/02

---
Mog / PfC / Etc.
For those wondering about the pending Chino / Mogwai collaboration, apparently during last December's Team Sleep tour, Chino said to a fan that the he didn't like the song Mogwai sent him, like they sent it for him to fix it.
Thanks to Mary A.

Dan, guitarist from the terrific & recently defunct band Pocket for Corduroy, has been practicing with Team Sleep and will be helping them out on the road. I assume he'll be playing the guitar parts that Sonny (Phallucy/Daycare) played on their last tour.

The Kush Project, a group comprised of B.Real of Cypress Hill and Stef of Deftones along with former members of Fear Factory, have now completed recording their upcoming debut album. The group hope to release it late this year / early next year through an as of yet undecided label. Band frontman B-Real recently commented to MTV on what to expect from the effort stating:

"It has its moments where it's real nice, but then it's got its heavy moments. It's a different project for me, you know. We dabble in it with Cypress, experimenting with the live band and stuff, but here I'm with seasoned veterans that have their own bands that have been out for a while. And we're just throwing it all together in the pot."
Thanks to deftonesworld.com

Check out teamsleep.net for an mp3 of Team Sleep's "Mercedes" - teamsleep.com for new TS pictures - and decibeldevils.com for a site on projects featuring DJ Frank and DJ Crook, including their Codefendants project.
05/09/02

---
2 New Chi Interviews
Deftones bassist Chi Cheng recently spoke to Rolling Stone about the bands upcoming new album, "Lovers", which the group plan to begin recording shortly at their own home studio with producer Terry Date (Incubus, Pantera). Here's what he had to say:
"We definitely want to put out a very energetic, very upbeat, fast album. We've proven that we can musically go in any direction we want, and we want to get kind of heavy on this one. We spent three or four months, each of us, working on our little solo projects and now we're all kind of like, 'These fucking side projects! We need to wrap them up and get back to our main focus, which is the Deftones.' Chino is trying to finish Team Sleep. I don't know how many bands Stephen's got on the side now... I can't even keep track. Everyone's trying to get their personal life in order before we jump into the whole mess of an album cycle and touring and everything else."
The band hope to release the album this fall through Maverick/Warner and are expected to begin touring around the same time, possibly as part of this years Pledge Of Allegiance Tour, which is slated to kick off in mid-October and is reportedly eyeing System Of A Down, Disturbed, Queens Of The Stone Age and Taproot for the bill. Read the full artlce here

Chi also did an interview on a Howard Stern radio station recently. He joked around a lot, saying Stephen made up for 80% of the problems in Deftones, and how he was the only one who "sold out" and moved out of Sacramento. About the new album, "Lovers", he s aid that this would be the first time they record an album in Sacramento, in their practice space studio. He also said he saw the Harry Potter movie with his kid recently, but thought it would be a lot better to have seen it while high.
03/31/02

---
Lovers Rock / Hell / TS Vanity
In a recent interview Chino said the new deftones album was tentatively titled "Lovers." He also went on describe the effort as a "really hardcore album...it's pretty loud and heavy. I wouldn't go so far as to say it's angry, but it's not pretty by any means". Half the songs are said to be done already and they hope to be finished around June with a September realease date being eyed. He also mentioned the possibility of Team Sleep touring Europe in July. A full transcript of the interview can be read here

Chino, Abe, and members of Team Sleep and Phallucy were seen at the Hella CD release show a couple weekends ago. Hella features Zach Hill of Team Sleep and their new CD "Hold Your Horse Is" is out now.

Team Sleep was scheduled to play the Vanity Fair after-party at the Oscars, but were unfornately cancelled at the last minute. Also, Team Sleep is still finalizing their album, with some pressure from Maverick to hurry up and get it done.

03/29/02

---
Abe on Daycare CD / FF / Etc.
Abe will be drumming on Daycare's soon to be recorded full-length album. He played drums on the track "Crankslut" on Daycre's self-titled debut. He will play shows with Daycare when he can, including their show on March 22nd in Old Ironsides in Sacramento. Check out daycarerocks.com for more info on that.

Fear Factory broke up, but Raymond and Christain will still be playing with Stef and B.Real in Kush.

Chino, Abe, and members of Phallucy and Team Sleep were seen at the Hella CD-Release show in Sacto. Hella features Zach Hill from Team Sleep, and their CD "Hold Your Horse Is" is out now.

Check out teamsleep.net for an mp3 of Team Sleep's remix of Tinfed's "Drop."
03/15/02

---
Site / TS / Etc
You may've noticed this site wasn't accessibe for a while, not sure what went wrong or if it's fixed. If not I might switch to another server, if you know of any good ones lemme know defjeffrey@excite.com - thanks.

Team Sleep is hurrying to finalize their album - Terry Date has done his part and now it just needs to be mixed. DJ Crook said it'll be out by May at the earliest.

Here's what Frank had to say recently on the official Deftones Bulletin Board in reference to what happened to the Deftones DVD:
"it just got caught up in red tape. dealing with labels is like a fucked up chess game."
Thanks to houseuvflies

Chino will sing on the track "Ashamed" for Tommy Lee's forthcoming album 'Never A Dull Moment' which will be released on May 21 via MCA.

Check out teamsleep.net for some pictures from Team Sleep's first show and their Sacto show.
02/16/02

---
TS May / Writing
Chino said that the Team Sleep album is getting pushed back to a May release and that they just started writing for the new Deftones album this week. He said that they were recording somewhere in West Sacramento.
Thanks to Drew S.
02/03/02

---
Def Lobbying / TS Tracks / More
Beck, Deftones and Offspring singer Dexter Holland joined Recording Artists Coalition founders Don Henley and Sheryl Crow at California's State Capitol on Wednesday to support new legislation that could change the relationship between recording artists and their labels.
Murray's bill aims to repeal Section 2855, Subsection B of the California Labor Code, which states that all entertainers and workers in California, except recording artists, have the right to terminate a personal service contract after seven years.
California's 56-year-old Labor Code protected musicians until 1987, when record companies secured an amendment that made artists liable for albums still owed to labels after seven years with them.
Check out the full article on that here.
thanks to deftonesworld.com

Here what Todd had to say on the Team Sleep board about the Team Sleep studio tracks:
The acoustics have yet to be named. All tracks played, except for "aeroplane,"will be on the album...probably. There are about five more songs/instrumentals that weren't played live that are possibilities for the album. Many of the songs will sound quite a bit different on the album than live, especially "Natalie." ALL SONG TITLES ARE TENTATIVE, some are more likely to change than others; For example, Bling Bling" WILL NOT be the title of a song on the album. I cringe when I think of how the bootlegs sound, my dislike for them is not about money.
We're going to use the 4 track demo of Natalie Portman on the album, it's very raw; Just guitar and vocals. I forgot, Crook added some sounds too.
Thanks to Matt for the info

Team Sleep's drummer Zach Hill's old band Crime in Choir now has some bomb MP3's you can hear.

teamsleep.com has the Kerrang Team Sleep show review scanned.

7words.net has the Team Sleep San Jose bootleg for download

Change (In The House Of Flies) will be a diamond in the rough on the upcoming Queen Of The Damned film soundtrack, which is based on the Anne Rice novel, and accordingly on the soundtrack, which is due out on February 19th through Waner Bros. Here's the complete track listing:
01 - Wayne Static of Static-X - "Not Meant For Me"
02 - David Draiman of Disturbed - "Forsaken"
03 - Chester Bennington of Linkin Park - "System"
04 - Deftones - "Change (In the House of Flies)"
05 - Marilyn Manson - "Redeemer"
06 - Papa Roach - "Dead Cell"
07 - Godhead - "Penetrate"
08 - Jay Gordon of Orgy - "Slept So Long"
09 - Disturbed - "Down With The Sickness"
10 - Static-X - "Cold"
11 - Earshot - "Headstrong"
12 - Dry Cell - "Body Crumbles"
13 - Tricky - "Excess"
14 - Kidneythieves - "Before I'm Dead"
thanks houseuvflies.com
01/25/02

---
Phallucy CD / Show / TS MP3
Abe's other band Phallucy has reported that they are writing new material for a new CD to be recorded in June 2002. Phallucy also has a show coming up in Sacramento:

Friday Jan. 25th
Capitol Garage 1427 "L"St. Sacto, CA
Phallucy
The Skirts
The Brodys
Daycare
Doors 7:30pm Show 8:00pm $6.00 ALL AGES!!!

Since Daycare doesn't have a new drummer yet, Abe will probably be playing drums for their set as well.

Team Sleep live bootleg from the San Jose show is on the net. Not too hard to find on FTP's - if someone can donate some webspace I will put them on this site to download.

Some trivia I was recently reminded of while listening to an old radio interview with Chino from early 1997 - he originally wanted the album title for "Around the Fur" to be "Now I Know You Love Me." Also during the interview he picked a couple songs to play - Bad Brains' "Sailin' On" and Failure's "Another Space Song."
01/22/02

---
Non Stef / Kush Show / TS
Deftones guitarist Stephen Carpenter and Fear Factory bassist Christian Olde Wolbers and drummer Raymond Herrera are tentatively set to show up on the upcoming new release from Non Phixion, entitled, "The Future Is Now". The effort features production by DJ Premier, Pete Rock and more and will also include a guest appearance from the Dilated Peoples among others. At present, its set to hit stores on March 26th through Uncle Howie/Landspeed.

Kush a band featuring Fear Factory bassist Christian Olde Wolbers and drummer Raymond Herrera, Deftones guitarist Stephen Carpenter and B-Real of Cypress Hilll, will perform at The Whiskey in West Hollywood, California on January 20th.

Check out teamsleep.com for a very informative Team Sleep interview including new information on the Deftones new album. In it Chino says he might put down the guitar and just focus on singing for the next Deftones album.
01/11/02

---
TS Phal Tour Wraps Up
The last show of the Team Sleep / Phallucy tour was in Sacramento last night. The show had a couple guest appearances; Frank DJed for about an hour before Phallucy's set, and during Phallucy's set their old guitarist, Josh Coker, came out and played on a song. Stef and Chi were seen in attendance, as well as members of Willhaven, Far, and Socialistik. The after party got stopped short cause some guy got stabbed in the neck...ouch.
Check out some pictures from the show here, thanks to Ames.

Some award winning TS/Phal pictures have multiplied. Here's a review of the Santa Cruz and Hollywood shows. At the Pomona show, Beck from Glassjaw came onstage to play guitar on the "Aeroplane Flies High" cover.

Merry Christmas =]
12/24/01

---
Team Sleep Article
An article on Team Sleep is featured in today's Ticket Section of the Sacramento Bee. It mentions that there are tentative plans for a Team Sleep East Coast tour in 2002. It also confirms that the Team Sleep CD will be released in March through Tone Def Records, the Deftones boutique label on Maverick. Here's some other highlights:
"We had all these guitars and it's kind of hard to play them quietly all the time," Moreno added. "And when I brought Zach in -- he's seriously one of my favorite drummers -- we started clicking. And he plays pretty hard, so to match his intensity I just sing a little harder and play a little harder."

Mike Patton's vocals form the core of "Kool-Aid Party," a spooky tune with lurching drum beats and jittery synthesizers. "All of the lyrics are still a mass-suicide type of thing, but (Patton) sang it like a lonely sailor song," said Moreno. "It's kind of cool how he took the idea and twisted it all like that. It was fun to be able to work with him."

"My whole thing is that I'm doing this for fun, and you know what, I just want to go out there and have fun with my friends. That's what it started off as and that's what I want to do. I don't want to stress on it."
Check out the full story here.

Theprp.com latest feature article has many bands listing their most listened to albums in 2001, featuring Deftones' own DJ Frank and Team Sleep's own Todd Wilkenson and DJ Crook.

Here's Frank's:
Prefuse 73 - "Vocal Studies & Uprock Narrati"
Can - "!EGE BAMYASI OKRASHOTEN"
Iron Maiden - "Powerslave"
DJ Z-Trip & DJ P - "Uneasy Listening"
Shuggie Otis - "Inspiration Information"
Cannibal Ox - "Cold Vein"
Queens Of The Stone Age - "R"
Adult - "Nausea"
Meat Beat Manifesto - "99 Percent"
Esg - "South Bronx Story"


Here's Todd's:
J. Mascis & The Fog - "More Light"
Elliot Smith - "XO"
Capleton - "I-Testament"
Idlewild - "100 Broken Windows"
Mos Def - "Black on Both Sides"
Mahler - "Symphony No. 9"
At the Drive In - "Relationship of Command"
Sade - "Lovers Rock"
Godspeed You Black Emperor - "Lift Your Skinny Fists Like Antennas To Heaven"
Phallucy - "Valium"


And here's Crook's:
Radiohead - "Amnesiac"
Rival Schools - "United By Fate"
Mogwai - "ep+2"
Nine Inch Nails - "The Fragile"
Cannibal Ox - "The Cold Vein"
The Time - "Ice Cream Castles"
Malcolm Maclaren - "Duck Rock"
Janis Ian - "Between The Lines"
Midnight Express - "Soundtrack"
Gang Starr - "Daily Operation"

12/21/01

---
Tour Pics / TS Article / PHotos
Check out some award winning Team Sleep photos from the Portland show, thanks to closeyoureyes&fly.
Some more rad Team Sleep photos from the San Jose show here thanks to Mark Lanning.
Great close up high quality pictures from the SF show thanks to Tristan Guevara.
And finally some cool pictures of Team Sleep / Phallucy in Seattle & Portland thanks to Kris & Jaime.

For those of you in the Sacramento area, pick up a copy of the Sac Bee on Friday for a story on Team Sleep by Chris Macias. Chino talks a little bit about Mike Patton's part on "Kool-Aid Party," how Team Sleep has evolved recently, and his overall philosophy about the project. To get the story, Chris went to a Team Sleep rehearsal last week and did an interview with Chino while they took a break. Chino also talked about how hyped he was to start on the next Deftones album!

I added some old photos of Phallucy to phallucy.com circa 1993 or so - live shots, promos, and some funny candid ones of Abe with a lovely haircut.
12/19/01

---
Phal Article / More TS Tour / Rumors
Phallucy was featured as the cover story in the Encore section of today's Sacramento Bee, interviewed by Chris Macias]. Check out the full article here. Check out two scans from it. Here's some highlights from the article:
"(Phallucy was) the biggest Sacramento band at the time," says Moreno. "Me and Abe were in 10th grade and he had Phallucy's first demo tape. We had one of those Walkmans with the dual inputs, and we'd stick the earpieces up our sleeves so we could listen to it during class. I remember that Abe and I were standing in the lunch quad one day and he said, 'Dude, Phallucy asked me to plays drums.' And I was like, 'Man, you're sorry if you don't do it.' "

"It's not a side project," Cunningham says of Phallucy. "It feels too good for that. This band stands on its own two feet. There will definitely be some juggling involved, but taking this on the road again could be the next thing. I could go on tour and play two sets: one with Phallucy and one with Deftones."
Check out some live Team Sleep pictures from the Seattle show, and some Phallucy pictures from that same show thanks to mystikspyral11. Also visit deftonesworld.com for some more Team Sleep pictures in Seattle.

Here's a Team Sleep setlist from the Seattle show:



Looks like they'll be ending most of the sets with that cover of Smashing Pumpkins' "The Aeroplane Flies High."
Here and here are reviews of the Portland show.

Rumor has it that Zach Hill, the current touring/album drummer for Team Sleep, may be playing drums for Primus soon.
Thanks to Joe Booger Robb.

houseuvflies.com reports rumors that Deftones may be recording some new music in a couple weeks with plans to have an album out by late 2002.
12/16/01

---
Team Sleep Setlist
Here's what the Team Sleep setlist said from the Seattle show:
1. intro
2. natalie portman
3. mercedes
4. solid gold
5. blvd nights
6. acoustic two
7. camboda
8. king diamond
9. bling bling
10. acoustic one
11. koolade
12. aeroplane
These are copied straight from the paper so "Camboda" is probably "Cambodia", and "Kool Ade" is "Kool Aid Party." Word is that "Aeroplane" was a cover of the Smashing Pumpkins song "The Aeroplane Flies High".
Thanks to Kris from For Months I'm Sharing Lungs
12/15/01

---
Tapped Chino / TS Reviews / More
It is rumored that Chino may guest on the upcoming Toby Wright produced Taproot LP tentatively titled "Welcome". A release date has not yet been set. This comes from a recent chat where members of Taproot stated that they would like Chino to guest on the album. From the transcript:
[22:03] so, I hear you are having troubles with the Chino Calaboration
[22:03] TROUBLES? NOT REALLY, JUST GOTTA WAIT LONGER TO SEE HOW SHIT DEVELOPES TO SEE WHERE HE'D FIT IN BEST
[22:03] are you plannin on doing a new song with him, or using him in a song you already have done?
[22:04] PROBABLY A NEW SONG TO LET HIM HAVE SOME INSIGHT ON THE MATERIAL

Roadrunner listed the world's greatest demos according to some A&R rep, with Deftones topping the list, check it out.
Thanks to houseuvflies for those.

Phallucy now has a Yahoo Club board, check it out here.

Todd from Team Sleep will be writing a tour log at this topic on the Team Sleep message board. Here is a fan review of the Team Sleep/Phallucy Chico Show - and a couple reviews of the Seattle show.

Mary Jane's Boyfriends (aka Los Mariwanos), a super group consisting of Stephen Carpenter of Deftones, members of Cypress Hill, Jane's Addiction, Methods Of Mayhem and Downset, will be performing a show at the Viper Room in Hollywood, CA tonight, December 15th. A flyer for the event is available here.
12/15/01

---
Team Sleep's First Show / Update / Phal Bee
Last Friady, 12/07/01, Team Sleep played their first show. It was an unannounced appearance at Old Ironsides in Sacramento, where the Heckler Magazine annual party was being thrown. They played 4 or 5 songs, with Chino, DJ Crook, Todd Wilkenson, and Zac Hill forming the core, Rick from Tinfed doing some bass and keyboards, and Sonny from Phallucy playing guitar on a couple songs. Daycare played before Team Sleep, with Abe filling in on drums. If anyone has pictures from this show, let me know!

Recent rumors suggest that DJ Crook of Team Sleep has done a remix of Linkin Park's "My December", for the bands forthcoming Linkin Park remix album, which is expected out early next year. In other news, Team Sleep have finalized the dates for their upcoming tour with Phallucy, they are as follows:
December 12th Chico, CA - The Brickworks
December 14th Seattle, WA - Graceland
December 15th Portland, OR - B complex
December 17th San Francisco, CA - Bottom Of The Hill
December 18th San Jose, CA - Cactus Club
December 19th West Hollywood, CA - Troubadour
December 20th San Diego, CA - Canes
December 21st Pomona, CA - Glass House
December 22nd Santa Cruz - Catalyst
December 23rd Sacramento, CA - Colonial Theater
Team Sleep will be selling shirts, Phallucy will be selling shirts and CD's. The rumors about the San Jose show being cancelled were wrong.
For info on all the aforementioned bands, check out the Tangents section.

Look out for a Phallucy cover story in next Sunday's Encore section of the Sacramento Bee. Chris Macias talks with the band about Valium, their roots, and documents their recent Viper Room show, along with some cool pictures of Phallucy playing at Deftones practice studio. Chris also has a story with Team Sleep in the works so look out for that in the Bee.

Word is that the Home Video features a lot of backstage/live stuff that looks like the backstage/live stuff from the Digital Bath video. The video also shows some of the downside of touring, but ends on an unplifting note, showing an honest look at the band and some of the drama that goes on behind the scenes.
12/09/01

---
Team Pic / Etc...
At the Phallucy show the other night Abe played drums for Daycare's set. Chino was there too but didn't grace the stage.

Check out DutchDeftones.com for a cool live picture from 1991.

Team Sleep is featured in the new Alternative Press Magazine as one of the most anticipated releases of 2002. The album is due out in March or April. Check out teamsleep.net for a scan of that piece.
12/03/01

---
Home Vid / POD / New Team Sleep Info
The Deftones Home Video is in the final edit stages.

A couple nights ago, Chino joined P.O.D. on onstage in Atlanta, singing along to their song "Outkast."

Team Sleep is planning a March release through Maverick Records for their forthcoming debut album, and an east coast tour to support it. Tentative track titles are as follows :
"Kool-Aid Party"
"Ligeia" (ft. Mary Timony of Helium)
"Appollonia"
"King Diamond" (ft. Mike Patton)
"Cambodia"
"Mercedes"
"Exhume"
"Death By Plane"
"Amherst Terrorist"
"Russien"

The Phallucy CD signing was rad last night, check out a picture or two.
Thanks to Penguin Policy

Trainwreck Productions will be documenting the Team Sleep / Phallucy West Coast tour for part of a Heckler mag video. Trainkwreck did Willhaven's "Carpe Diem" video which Chino plays a part in, and Daycare's "Violets" video which Abe plays a part in. Check out Trainwreck Productions website for more info, pictures, and a downloadable clip of that Willhaven video.

Check out deftonesworld.com for a picture of Chino when he was in sixth grade.
11/21/01

---
Team Sleep / Phallucy Dates
Here are the dates for the Team Sleep / Phallucy West Coast tour:
12/13 - Ashland, OR - Armory
12/14 - Seattle, WA - Graceland
12/15 - Portland, OR - b complex
12/17 - San Francisco, CA - Bottom of the Hill
12/18 - San Jose, CA - Cactus Club
12/19 - Los Angeles, CA - Troubadour
12/20 - San Diego, CA - Canes
12/21 - Pomona, CA - Glass house
12/22 - Santa Cruz, CA - Catalyst
12/23 - Sacramento, CA - Colonial Theater
Expect to see some mixing and matching between bands, should be interesting.

DJ Crook and Todd Wilkenson from Team Sleep will be remixing the Tinfed track "Drop" for Tinfed's upcoming remix album. Crook had to say:
"as far as the remix,its for a song called drop. hopefully me and todd can finish it soon cuz i think they want it like *now*. originally frank was supposed to work on it too but then he went outta town.the songs kinda poppish...i would like to kinda *darken it up* a little."
The album is called Designated Rival EP and will be available January 22, 2002.
Thanks to New Cavity
11/07/01

---
Dust DVD / Tool / Daycare Drum
The new Sevendust DVD "Retrospect" features Chino recording "Bender" with their singer Lajon, riding horses, signing autographs for fans, etc.
Thanks to Sage

Deftones ended up doing a song with Jurrasic 5 , and covering Right Brigade with H.R. from Bad Brains at that B.R.E.A.T.H.E Breast Cancer benefit concert. The band did the event after Chi's persuaded them, his mother was diagnosed with breast cancer three years ago.

Daycare recently parted with their drummer, Rick Click, so Abe might be the drummer in the studio on their next album.

I saw Abe and Chino at the Tool show last weekend, and apparently the rest of the band except Stef were there too.

Phallucy's debut album Valium was released in all fine record stores today, check out phallucy.com for details.
11/06/01

---
Shaun & Team Sleep
Shaun Lopez, of The Revolution Smile and formerly of Far, mentioned participating in Team Sleep in a recent interview:
Q: Are you currently involved in any other side projects, or do you have any plans for future projects such as guest appearances, collaborations, etc?

Actually I recorded a song the other day with Team Sleep, which is Chino from the Deftones, his side project. We went in and did a Cure cover, which I don't know if it will end up on the album or not, but it might be like a b-side or something, but yeah, I played guitar and Chino sang and Abe from Deftones played drums. It was kind of a like spontaneous thing. I was over at his house probably a couple of days before that and we just started jamming on it, and he was like, "we're going to be in the studio on Thursday. Why don't you come down and we'll record it." So, I said sure. Of course I'm not going to say no. But yeah, it was fun.
He also had this to say about Deftones:
Q: Well, I mean you did have the chance to work with the Deftones and for most people that would be like a dream come true..

I mean honestly, even though I've known those guys forever, and they've always been my friends, it's still like... I mean when I first heard White Pony that was kind of like...when you know somebody and they make cool music, it's not really the same as if you buy this record and you're totally into it and you don¼t know the person. It kind of like, it adds that mystery. But, when they did their last album and I got it, I was kind of like, "whoa!!" It went from being to the friend to the fan guy. Like I was way into it. I was mainly just proud of them for what they had made. So yeah, recording with them was awesome, and I'm never going to be one to jock them or anything. I respect them immensely for what they've done and how they've done it and yeah I think they¼re an amazing band. So yeah, it was great to work with them. I mean I would love to work with Billy Corgan. I would love to have him produce like some songs or something because I think he has a really good ear for like production and stuff. I don't know, there's many others.
Thanks a lot to Nancy for that

Currently known tentative track titles for Team Sleep include:
Kool-Aid Party
Ligeia
Applonia
King Diamond
Mercedes
Death By Plane
Amherst Terrorist
10/24/01

---
Sleep Guests / Phal Tour / After Party
It has been confirmed that Mike Patton of Faith No More, and Mary Timony of Helium are on Chino's Team Sleep album. Also I found out that Sonny Mayugba (Daycare/Phallucy) will be playing guitar and maybe bass on a track or two.

Team Sleep and Phallucy tour dates will be posted on phallucy.com soon, and a few California dates for Phallucy have already been added including an in-store CD signing at Tower Records in Sacramento. Check out www.phallucy.com for all the details.

Deftones' live collaboration with Liz Phair at the B.R.E.A.T.H.E Breast Cancer Benefit is this Friday at the Greek Theatre in Los Angeles. Afterwards, Club Flavor is throwing the Deftones an after party at the Viper Room with a Halloween theme, with DJ C-Minus, and a special midnight performance by The Kush Project (Stef's side project). Check out the flier.
Thanks to Nancy for the scoop on that
10/24/01

---
1990 Video For Sale
The Deftones live video from 1990, mentioned a few weeks ago, is now for sale! Here's what the seller has to say:
Fellow Deftones fans, as you all may know a video of the Deftones performing at the Guild Theater in Sacramento in 1990 exists and was said to be readily made for the public shortly after screen shots and the information had hit the internet. Well, the video is now available to buy and only for a very short time. It is ONLY available through this and other Deftones webpages. It is a copy of the original video shot in 1990 of the Deftones (consisting of Chino Moreno as the vocalist, Chi Cheng as the bassist, Stephen Carpenter as the guitarist and Dominic Garcia as the drummer). It was filmed by a mutual friend of all of the bands that played that night at the Guild Theater. It is shot from the side of the stage. The video is approximately 1 hour long, and that means the Deftones are on the video for 1 hour, not other bands. It includes never before heard Deftones songs that are older than the Like Linus demos. Included with this email, webmasters have received a short video clip of the video. The clip does not do the actual copy any justice, as it is only 15 frames per second in order to keep it at a minimum file size. Stephen is on the left of Chino and Chi is on Chino's right. Dominic is in the back with the drums. The actual video offers a lot more than the clip shows, it is merely there as a sample. There is only one copy of this video in existence. That copy was duplicated and then re-mastered into a limited amount of videos which can now be purchased. Each video is $23.95, which includes shipping. The videos are in NTSC format, so this is for U.S.A. and Canadian residents ONLY. Money must be shipped in the form of a personal check, cashier's check or money orders ONLY. There is a very limited amount of videos for sale , so only 1 video per customer, and money must be received by the end of November 2001. Since there is a limited number of copies, all buyers must email videodude1990m@excite.com and give your name and address, so that we do not have an excess of buyers. When the email is received, the buyer is then placed on a list, securing their spot for a video, and then given the name to make the check or money order out to and the address to send the payment. Please make the subject of your email "Deftones 1990 Video". Questions can be directed towards that email address as well. All videos will be sent out in time for the holiday season (December 25th, 2001), so please allow until then for delivery. We encourage all Deftones webmasters to post this information on their websites.

New Info: Many more countries will now be able to purchase the Deftones 1990 video. The following countries that we can now ship to are: Bahamas, Barbados, Belize, Bermuda Island, Bolivia, British Indian Ocean Territory, Brunei, Burma, Cayman Island, Chile, Columbia, Costa Rica, Cuba, Dominica, Ecuador, El Salvador, Fiji, Grenada, Guam, Guatemala, Guiana, Haiti, Honduras, Jamaica, Japan, Johnston Island, Korea, Marshall Islands, Mexico, Micronesia, Midway Island, Montserrat, Mynamar, Antilles, Northern Marina Islands, Okinawa, Panama, Peru, Philippines, Puerto Rico, Solomon Islands, St. Grenadines, St. Lucia, St. Vincent, St. Kitts, Surinam, Taiwan, Tonga, Trinidad, Venezuela, and Virgin Islands. Please note that these videos are still in NTSC format and should be viewable in the above counteries. Since shipping is more money for these international packages, the price for the video and shipping to any of the above countries is $30.00 in American currency.
Check out the clip of the video, click "Save As" or something to download, and make sure the extension is .wmv - You need Windows Media Player to see it.
10/20/01

---
Pre-Pro / Kush / Chimiara
The Deftones are currently set to begin pre-production on their upcoming new album in their own studio on November 01st. A release around spring / summer through Maverick is being eyed. However, it is more than likely that the band won't begin officially tracking the effort until late this year / early next year, as frontman Chino Moreno and drummer Abe Cunningham are expected to hit the road together with their respective side projects Team Sleep and Phallucy, for a short trek in early December.

Kush (Stef's side project) made a surprise performance at the recent October 12th Ventura, CA stop of the Roadrunner Roadrage Tour. The band played four songs during an impromptu set, while Deftones guitarist Stephen Carpenter also joined Chimaira on stage for a performance of the track "Rizzo", a song from Chimaira's recently released debut "Pass Out Of Existence", which also features Stephen on the studio version. At present, Kush are eyeing a release sometime next year for their debut effort. Also they are slated to play a show at the Viper Room in West Hollywood, CA on October 27th.

Here's what Chimiara had to say about Stef's guesting on "Rizzo" in a recent interview at theprp.com:
PRP: Deftones guitarist Stephen Carpenter made a guest appearance on the track "Rizzo", how did this collaboration come about? Mark: I met him in L.A. sometime last year. Turns out he was turned on to us by a mutual friend. Yes, that means he actually liked our band, so when we were recording we saw him almost every night and he kept telling us he was going to come down and jam. We never thought he would do it. It is an honor for us to have him on the record, we are all huge Deftones fans.
10/20/01

---
Team Phal Tour / Writing / Violets Vid
The Team Sleep / Phallucy West Coast tour is now planned on happening December 13th through 23rd, with a show in Sacramento on the last date.

Deftones will soon begin writing for their next album, and have plans to turn their practice space into a studio of sorts.

daycarerocks.com has posted online the video for Daycare's song "Violets." I helped work on the video and did a scene with Abe in it. My scene got cut :/ but you can still see Abe in it, and it's a rad video and song, so check it out.

Frank Delgado, DJ Crook (Team Sleep) and Sacramento's DJ Epik have launched a site at www.decibeldevils.com for the group Co Defendants. The site is currently in a holding stage with just a short intro although a mailing list will soon be added to the site so keep your eyes peeled.
The members have been using what little free time each had to infrequently contribute to the Co-Defendants, a hip-hop-flavored, beat-driven collective that hopes to release an album next year.
thanks to thedeftones.com for that
10/10/01

---
Kush @ 420
Kush did play last Saturday at SmokeOut '01. They were escribed as "hardcore, with B. Real screaming, and rapping sometimes." Deftones also played that day, and even did a cover of Bad Brains' "Right Brigade" with Bad Brains' singer, H.R., just like they did at SmokeOut '99.

Here's a picture of Kush playing thanks to Alex and Dezi of Monrovia CA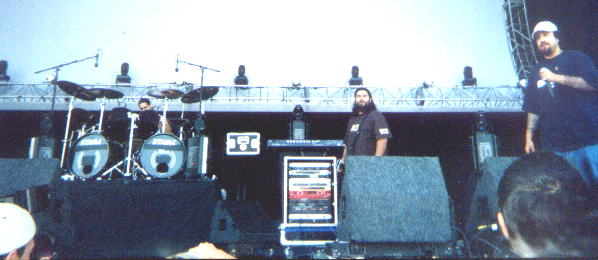 At present, the Deftones are expected to take a short break while various members of the band pursue other interests with their multiple side projects.
10/09/01

---
Kush @ 420
Stephen and B.Real of Cypress Hill were on Loveline Tuesday night, and confirmed that Kush will be making its first live appearance at the Devore SmokeOut show. Look out for them on the second stage at 4:20pm. Kush features Stef, B.Real, and a couple guys from Fear Factory.
10/04/01

---
Loveline / Chim
Word is that Deftones and Cypress Hill will be on the Loveline radio program tonight. Check your local stations for that.

Chimaira's album "Pass Out Of Existence" featuring Stephen Carpenter's guitar work on the track "Rizzo" was released today.
10/02/01

---
Phal Sleep Tour / Hawk CD
Chino's side-project, Team Sleep, and Abe's side project, Phallucy , will be embarking on a tour of the West Coast from December 1st through 14th. Chino played guitar with Phallucy at a recent practice session, and will be playing guitar live with them on at least a couple of songs. Check out www.phallucy.com for some recently added sound clips.

Maverick Records will be releasing "Music From and Inspired by Tony Hawk's Pro Skater 3", the Soundtrack to the upcoming videogame "Tony Hawk's Pro Skater 3", on October 16th featuring Deftones. The disc shapes up as follows:
01 - NOFX - "What's The Matter With Parents Today?"
02 - Sum 41 - "Summer"
03 - Alien Ant Farm - "Wish"
04 - Pennywise - "Who's On Your Side"
05 - Drowning Pool - "Follow"
06 - Outkast - "B.O.B."
07 - Onesidezero - "New World Order"
08 - Papa Roach - "Infest"
09 - Millencolin - "Pepper"
10 - Hometown Hero - "Questions"
11 - Pressure 4-5 - "Melt Me Down"
12 - Ozomatli - "Cut Chemist Suite"
13 - Deftones - "Headup"
09/23/01

---
Phallic / New Songs / Pixies Cover
Phallucy's album Valium was released today - The CD's are going fast so order yours soon to make sure you get one of first 1000 signed (by Abe, Dave and Sonny) CD's - Go to phallucy.com to get the CD, T-Shirt, and all the other details...

Check out a little article on Phallucy from the Sacramento Bee - And a rad Phallucy interview over at thePRP - and speaking of interviews, I'm doing a Phallucy interview today so check back for that.

Socialistik - DJ Frank's old hip-hop group - will hopefully be touring the US and Europe soon so look out for them, they're rad live.

Here's what Abe had to say about the new songs they were reportedly working on:
"Maverick wanted us to do some covers and we know what would happen if we did a cover song. They would take it and run with it and try to make it a hit, so we actually stopped that shit from happening. Maverick are in the position right now where they need to put out something huge and they'll do anything at any cost and we're not ready for them to have us blow up on a fucking cover song." He also commented on the bands current writing process of new material, saying: "We've been buying a bunch of equipment and just recording in our rooms and on the bus, but mainly its just about us getting along and not writing a song at all, but just us being creative and laughing together. It was the opposite way with "White Pony" so far as productivity." When asked on what to expect from the new material, he went on to state: "Probably a hybrid of everything that we've always been, but I think everyone's been wanting to rock a lot more too again, but there's no telling. It could be anything with us"
Abe also says that the Liz Phair collaboration should be cool, they found out that she is a fan of Deftones, and they'll be performing some cover songs together at that LA Show (see past news) probably including a Pixies cover!
09/11/01

---
pH Interview / Sleep Pics / Scrapped
I will be doing a Phallucy interview for this site with Abe, Sonny, and Dave within the coming week. If you have any ideas for questions to ask send them to me at defjeffrey@excite.com and the best ones will be used. Phallucy will only be doing a couple interviews for a while, so take this oppurtunity to have your questions answered!

Check out some pictures of Deftones backstage, including some of Chino recording Team Sleep with some rappers from Philladelphia.

The Deftones have scrapped plans to track 2 new songs with producer Mudrock. The band was originally set to record the songs for an upcoming soundtrack, but have since backed out of the project.

It is rumored that the upcoming Throwdown / Poison The Well split will feature Throwdown covering the Deftones track "Around The Fur" and Poison The Well covering the Smashing Pumpkins track "Today".
09/05/01

---
Deftones & Liz Phair / New Songs
Deftones and Liz Phair will be performing a set together at the B.R.E.A.T.H.E breast cancer benefit on October 27th in Los Angeles.
Deftones were originally reported to be playing their set with help from Billy Corgan, but it didn't work out. The event is being put on by Third Eye Blind frontman Steven Jenkins and will feature several other musical pairings.

The Deftones are heavily rumored to have recently hit the studio with producer Mudrock (Godsmack, Powerman 5000) to track 2 new songs. It is expected that they will show up on upcoming soundtracks.
08/29/01

---
420 Band / Phallucy Tour
The Smokeout tour is supposed to have a "Surprise 4:20 Band" and since Deftones, Cypress Hill, and Fear Factory are all on the bill...my guess is the surprise is Kush (a supergroup featuring Stephen Carpenter and members of the afforementioned groups).

Phallucy (Abe's side band) will probably tour with Chino's Team Sleep project this fall, or at least on a few dates. Chino really wants them to come out so it'll most likely happen. Phallucy will also do their own west coast tour this year, hopefully followed by a full national tour later on. Chino will be joining Phallucy on guitar for some of their set while t]he 2 bands are playing together. Check out www.phallucy.com for more info on that, and their upcoming CD release.
08/28/01

---
Godsmack & Deftones Talk
In a recent article from the Boston Globe, Godsmack and Deftones comment on their summer tour. Here's the highlights:
''Yeah, we hung out at Ozzfest and became buddies,'' says Godsmack bassist Robbie Merrill.

''Everybody is excited. These are two bands that play rock the way it was meant to be played,'' Deftones singer Chino Moreno says of their pairing tonight and tomorrow at the Tweeter Center. ''We may come from different areas of rock, but everything is going to be cool.''

''I'm going to make music as long as I can stand up, and I'll be in this band as long as it is a band,'' says Moreno.

''The Deftones were one of the first bands we wanted on tour with us,'' says Merrill. ''They draw a good crowd, and we wanted to get both of our crowds together.''

'' This tour is great because all the pressure of selling a record is off our backs,'' Moreno adds. ''We were going to sit at home and make a new record, but then [Godsmack's management] called, and here we are. And, really, we wanted to go out this summer and have fun anyway.''


08/24/01

---
Abe calls in on KWOD
On Sacramento radio station KWOD 106.5's "Sounds of Sacramento" show last night, Daycare was featured along with Abe who called in from Minneanapolis. They talked about Daycare and Phallucy, played a Phallucy song live & acoustic, and chatted with Abe. Check out an MP3 of most of the broadcast on the sounds page.

Check out some Team Sleep promo material here & here thanks to breakingdecensy.com - also go to maverick.com/teamsleep to sign up for the mailing list.
08/20/01

---
Jane's / Writing / Wed / Notes
Deftones have been writing new material while on tour, they got a little drumset for backstage and have been workin' away.

Deftones were offered to open the West Coast leg of the upcoming Jane's Addiction tour, but they're not sure cause the contract overlaps with the Smokeout Tour contract.




Here is a neat setlist that Abe wrote when he played drums for Daycare at one of their shows. He wrote notes next to the songs to remind him how the drum parts went, and at the bottom is a guestlist he was writing out. Click the pic.

The last bachelor in the Deftones, Stephen, is a bachelor no more - he recently got married to his girlfriend.

Here's a cool article comparing & contrasting Deftones and Godsmack. I think you'll agree.

The clock is ticking.
08/18/01

---
1990 Video / Wilk Interview
There is a video, 1 hour long, of a Deftones live performance in 1990 when they were about 18. It is shot while they played at the Guild Theater in Sacramento. Even more exciting is that the drummer is neither John Taylor or Abe Cunningham, but Dominic Garcia. Plus, it is during the "short haired" Chino era, which was even before his dreadlocks! The footage is not pro shot, but is good quality. The owner of this video is planning to get it approved by Maverick so that he can sell it to everyone who wants to see it.
Here are a few pictures of the video to hold you over until then - Chino - Chi - Chino & Stef

Here is a neat interview with Todd Wilkinson, the other member of Chino's Team Sleep project, interviewed by the New Cavity Team Sleep site.

Deftones will co headline this years Smoke Out festival alongside Cypress Hill. Smoke Out will hit New York on September 15, San Francisco on September 29 and San Bernardino on October 6.
08/12/01

---
Corgan Collab
Here's what Billy Corgan of Smashing Pumpkins had to say about his possible upcoming live collaboration with Deftones for a breast cancer benefit show:
I want to clear up any confusion about the reports that I am appearing at the upcoming breast cancer awareness benefit in Los Angeles. a little over a month ago, I was asked if I would be interested in participating in the benefit. I support events such as this and expressed interest in possibly performing, schedule permitting, but could not confirm at that time. somehow that fact was overlooked and, unfortunately, it has been wrongly reported that I am confirmed at this event. also, the idea of collaboration with the deftones was never discussed. I love the deftones, and I think it would be great to play with them, but had not heard anything about this idea until it was reported in the press. I am still interested in being a part of this very worthwhile benefit, but can not yet confirm?we?ll make an official announcement if and when the time comes?
Todd Wilkinson of Team Sleep has give a few choice words to a new article which covers the many side projects of the Deftones. It reads as follows:
Wilkenson, who is both confident about and intimidated by the chance to release his debut on a Warner Bros. label, puts his friends' success into context: "When we were in high school, there were always these rich kids, and compared to them, we didn't have any money. So we had kinda messed-up clothes, but in a way, we were like, 'Fuck that, I'm better than everybody. I can do whatever I want, even without money.' It was kind of a conceited attitude, too, but we always felt like we were as good as anybody. So to see [the Deftones] blow up, it wasn't like they got bigger, it was like everything else got smaller... I mean, I haven't even played a live show in my life. All I've done is make melodies on a four-track, and the next thing I know I'm in a studio with [Deftones, Pantera, and White Zombie producer] Terry Date making a record."
thanks to thedeftones.com
08/03/01

---
MoM / Deadsy / Billie & Deftones
Deftones frontman Chino Moreno recently tracked vocals for a song set to show up on the forthcoming new Methods Of Mayhem album. His contributions were recorded last week, at the home studio of Methods Of Mayhem mastermind, Tommy Lee. The effort is expected to surface this fall. Crap.

It now seems as though Deadsy frontman P. Exeter Blue (aka Elijah Blue Allman) may possibly appear on Chino's Team Sleep album. Currently, work is still progressing on material for the effort, with a handful of songs being tracked so far. Tentative titles include: Kool-Aid Party
Ligeia
King Diamond
Death By Plane
Chino had this to say to Metal Hammer Magazine about Team Sleep:
"I really enjoyed doing Team Sleep," Moreno Says. "I could work on the music by myself and use ideas that I hadn't used for the Deftones. It's a very moody record, very beat-oriented. Each song has a different theme, a different sound. There's a lot of fantasy going on, and instead of writing songs about myself or my life, I've just let my imagination go crazy. I expected the album to be a lot more mellow than it is, but just by nature, it ended up being a little more up tempo that I anticipated - but it's good."
Thanks to IpekUK
MTV.com reports that that Billy Corgan will join the Deftones on a benefit concert organized by Third Eye Blind frontman - Stephan Jenkins. This concert (BREATHE "All-Star Breast Cancer Benefit") will take place in Los Angeles on October 27th and it will also feature Sugar Ray with Crazy Town and perhaps David Bowie with Third Eye Blind.
"I tried to think of something that would be fun for the bands and the audience, and I decided to have band pairings," said Jenkins, who plans to call the event Breathe. "I think audiences who are so surfeited on seeing radio shows where all your favorite bands come out and play a 30-minute set will get to see something really different."
Seal will also play an acoustic set and No Doubt's Gwen Stefani may take the stage.
"The point of the show is to emphasize that breast cancer isn't a woman's issue, it's everybody's issue because it touches families," said Jenkins. "So I wanted to have an eclectic mix of everybody's music. You have somebody like Seal playing right next to the Deftones. I dig that."
thanks to deftonesworld.com
07/27/01

---
Vocal Coach / CKY Off
Chino Moreno has been instructed to see a vocal coach and give up smoking and drinking to prevent further throat problems, after being given the all-clear by doctors to resume the band's co-headline tour of North America with Godsmack.

The band were forced to cancel four shows, including a hometown date at Sacramento, when he fell ill with severe throat problems.

After intensive treatment by a Los Angeles ear, nose and throat specialist, he was able to sing again at the band's gigs in Phoneix and Albuquerque last weekend (July 21 and 22).

The doctor has instructed him to begin